2012 ASCAP Songwriter of the Year, Ben Hayslip
February 24, 2014 @ 7:00 pm

-

10:00 pm

$5.00
Monday, February 24, 7:00 PM
Nashville Berklee Jam
with special guest

2012 ASCAP Songwriter of the Year, Ben Hayslip

at The Rutledge
Topic: All Things Songwriting
Join us on Monday, February 24 at 7 p.m. at the Rutledge for our next Berklee Alumn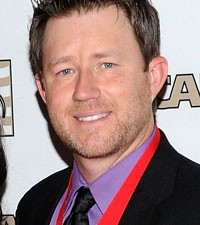 i event featuring 2011/2012 ASCAP Songwriter of the Year and Peach Pickers member, Ben Hayslip. With 14 number one singles to his credit and three "Triple Play" awards, Ben will provide a unique perspective on being a professional songwriter in Nashville. After his talk he will perform a few of his biggest songs with the Nashville Berklee Jam house band. Immediately following Ben's portion of the night, there will be an open jam, backline provided.
This event is open to the public and free to Berklee alums with a $5 cover for non-alumni (each alum can have one guest get in for free). There will be a sign-up sheet for the jam, which will be first come first serve (all styles welcome, if you would like to play original songs please bring number or chord charts).
About Ben:
Ben is a Georgia native and a member of the most successful songwriting team in the history of Nashville, "The Peach Pickers" (comprised of Ben, Dallas Davidson and Rhett Akins). He has cowritten songs like "Put a Girl in It" by Brooks & Dunn, "Gimmie That Girl" and "The Shape I'm In" by Joe Nichols, "All About Tonight" and "Honey Bee" by Blake Shelton, "All Over Me" by Josh Turner, "Farmer's Daughter" by Rodney Atkins, Luke Bryan's "I Don't Want This Night to End", Craig Morgan's "This Ole Boy", Jake Owen's "Anywhere with You", Justin Moore's "Point at You", and Thomas Rhett's "It Goes Like This". He is a three-time winner of the CMA triple play awards, songwriters who pen three chart topping hits in a 12 month period.
The event is hosted by Eric Normand '89 and you can e-mail him if you have any questions.
The Rutledge,  410 4the Avenue South, Nashville TN 37201