Jason Aldean
The latest Nashville Berklee Jam last Tuesday was a great success, thanks to all who attended! The weather was beautiful, so we had a very laid back talk outside on the patio at The Fillin' Station, our usual location for this event. Rich Redmond, the guest speaker on this night, has worn a lot of hats during his 15 years in Nashville – session/touring drummer, producer, clinician, public speaker, and his hour-long talk gave all in attendance some great perspective into different ways to navigate the Nashville music industry.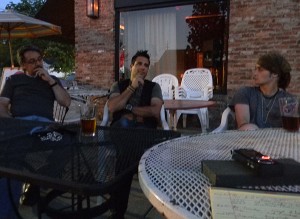 Rich spoke of the need to aggressively market yourself to find work in Nashville and how in his earliest days he obtained work by handing out demo cds of his drumming abilities to almost everyone he would meet around town. He candidly talked about those 'lean years', and that long before he was recording on hit records, touring the world with Jason Aldean, and producing acts like 'Thompson Square', he was hustling gigs on Broadway, playing in corporate party bands – whatever was necessary to insure survival.
For those who are just starting out in Nashville, he recommended that musicians "take every gig that's offered", as every new gig can potentially lead to new relationships and different career opportunities and that "If you give more to people then they expect, if you consistently exceed expectations, people are going to want to work with you."
He spoke of the need to be ultra-professional by "always returning phone calls in a timely manner, always returning e-mails in a timely manner, being professional, being flexible, having the right gear to do the job and never mailing in a performance…"
Regarding the importance of reputation he said "You can have a great website, you can Tweet 1000 times a day, you can have a fantastic business card that's got the really good paper, you know the really firm stuff that you have to pay extra for, and it's still going to come down to word-of-mouth. In this [digital] age it's so easy to be talked about in a positive or negative way, globally."
During one part of the talk he mentioned a concept he refers to as "CRASH" a phrase he coined that stands for Commitment, Relationships, Attitude, Skill and Hunger – the five key ingredients he believes are necessary to succeed. He also spoke of the importance of defining your own success, a concept I talk about in my book "The Nashville Musician's Survival Guide" (coincidentally, Rich contributed to the writing of this book).
After fielding several questions, he finished his talk and we all headed inside to make some music. Everyone who wanted to jam got a chance to sit in, and several great performances took place – ranging from classic rock covers to blues jams to originals. Rich stayed till the end making himself accessible to anyone who wanted to hang and chat, and during the middle of the jam he got behind the drum kit and played a few songs with me and several other alums. Here's an MP3 of us playing a spirited version of the Jimi Hendrix classic, 'Little Wing'
Audio clip: Adobe Flash Player (version 9 or above) is required to play this audio clip. Download the latest version here. You also need to have JavaScript enabled in your browser.
The night ended and we all headed home, but not until gathering for a group photo.
I want to thank everybody who came out and participated to make this another great event, see you at the next one! The next Nashville Berklee Jam will be held on Tuesday, July 10 – check back in a few days for info on the guest speaker for that night.