Our guest speaker for the June, 2014 Nashville Berklee Jam was award-winning vocal coach, Judy Rodman. In this in-depth workshop she covers many facets of the most challenging endeavor a vocalist will encounter, singing in the studio. Here are some highlights from her talk (her entire presentation can be viewed below).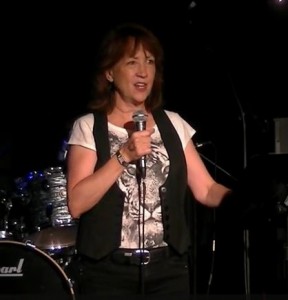 "The studio is an odd place to sing, it's very artificial…it requires perfection, because the mic is really sensitive… and recording is forever."
To optimize a studio performance, Judy offered many practical pieces of advice:
Make sure that you get the cue mix that you want.
Make sure you get the right amount of reverb.
Try singing with one side of the headphones on and one side half off. This allows you to "be a little grounded in the room acoustically".
Take some things out of the mix that are swimmy or distracting.
When singing lead, experiment with tracking the song in sections, for instance verses first, then a high chorus
Regarding tuning and compression – "You want to sing as well as possibly can so you can use as little of that correction as possible…then the song is going to sound more natural and you'll be in control."
One reason that singing in the studio is hard is that you are missing an audience. Most singers that are new to singing in the studio tend to look down at the mic. "I can't think of any song I've ever heard that the lyrics were directed to the mic, and when you sing to the mic that way, it's going to sound like you're not singing to anyone." To remedy this, Judy's suggests singers don't face the control room. Face a corner or somewhere you're not distracted and imagine you're singing in a concert hall. "Create your own holideck."
Another thing that makes studio singing hard is that most studio settings are not set up for optimal singing. "I'll bet you 95% of the studio's I ever go into, the mic is not set up, the music stand is not set up, the cue box is not set up in ways that would help a singer automatically have the best breath control." During her talk, she demonstrates the proper way to place a mic stand, music stand and cue box to give the singer the space they need to optimize breath control. "Move the music stand and cue box back a little." The singer shouldn't have to lean forward to reach the mic.
Regarding multiple takes of a vocal, sometimes an engineer or producer might say, "okay, this pass, give me everything you've got!". This doesn't mean to push harder. Often, the louder you sing, the smaller you sound. The louder you sing, the more they have to pull you back because your pinging the meter. And you lose resonance. "More is two things – passion and resonance." The magic formula is "back off the pressure, add passion". The power comes from your butt, hence the phrase "sing your butt off!"
Lastly, "You want to know how to maximize your efforts so you get magic". Know how to prepare for the studio, know your songs backwards and forwards, know your keys and tempos. The day of your vocal session – get a massage, drink water like a fish, watch what you wear (noisy fabrics, ball caps, sun glasses – don't let anything come between you and the vocal).
Judy Rodman is an award winning vocal coach, session singer, recording artist, stage and television performer, songwriter and vocal producer. Named 'Best Vocal Coach" by NashvilleMusicPros.com and "Vocal Coach in Residence, August 2013" by TC Helicon's Voice Council Magazine, Judy teaches her trademarked vocal training method "Power, Path and Performance"™ to singers and speakers nationally and internationally in her office, by phone and Skype. She is a published author with several professional vocal courses; her "All Things Vocal" blog has over ½ million views. Her vocal clients include major and indie recording artists and labels, touring and studio background singers, national public speakers and voiceover talent. She has had #1 records as an artist, songwriter and producer, and won ACM "New Female Vocalist" and BMI Millionaire awards. She is member of NATS, AFTRA, SAG AFofM, BMI. Judy's vocal students include: Kacey Musgraves, Mat Kearney, Pam Tillis, Dakota Bradley, Radney Foster and Brian White, to mention a few. To learn more about Judy or for more practical vocal tips please visit her website, JudyRodman.com.
The Berklee Nashville Jam is a bi-monthly event held on the last Monday of every other month at the Rutledge and hosted by Berklee alum, Eric Normand '89. The event, which is open to the public, is free for alumni and a guest; and $5 for non-alums. After the guest speaker, attendees are welcome to jam with the house band and others from the Nashville music community. For more information about the Berklee Nashville Jam, visit www.nashvilleberkleejam.com.
Judy's Talk