Dweezil Zappa
By Eric Normand
Our second installment of The Nashville Berklee Jam at The Rutledge brought out a great crowd, an inspiring story, and some "vibey" performances. Our special guest on this night, bass extraordinaire and Berklee alum, Bryan Beller gave an insightful talk that touched on the ups and downs of his life and his experiences in the music business.
Long before his recent work with Steve Vai, Dethklok, The Aristocrats, and his current role as bassist on Joe Satriani's 2013 European tour, Bryan roamed the halls of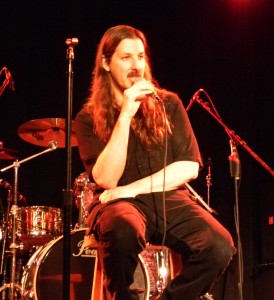 Berklee College of Music searching for a higher level of musical awareness and his place in the world of music. This journey would take him to LA and a stint with the Dweezil Zappa band, a move that led to an interesting chain of events.
A few years into his new life on the West Coast he found himself in a once-in-a-lifetime opportunity auditioning for the bass spot with Steve Vai, a dream gig that ultimately slipped away. He candidly shared his story of the ups and downs of life as a musician in LA, and what started out as a musical journey eventually led to the golden handcuffs of corporate America when he wound up VP of the bass amplifier company, SWR, an experience that taught him much about the business world.
Eventually, SWR was bought out by Fender, a merger that Bryan helped coordinate, and while this turned out to be financially rewarding, his job title proved much more happening than the gig itself. Bryan eventually left corporate America to give his musical aspirations another shot, moving to Nashville to start a new chapter. No sooner had he landed in Music City when he found himself in a parallel universe, auditioning a second time for the Steve Vai bass job. This time, 11 years after his first attempt, he landed the gig.
The unexpected gig with Vai began a whole new chapter, one that is continuing to write itself as we speak. Of his experiences of delving between corporate life and the music business, Bryan explained:
"No choice is as permanent as it seems when you're making it", and "Whatever it is you want to do, leave open the possibility that it might happen."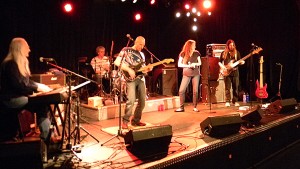 Bryan's talk concluded with some questions and answers followed by a brief set with the house band. We jammed on some R&B instrumentals and also featured Bryan's wife, Kira Small who delivered a passionate, vocal performance. The open jam that followed featured several alums, all who delivered inspiring performances. Follow this link to watch a video of Bryan's talk (one hour). Video excerpts of performances from this night will be posted in another blog.
Special thanks to Bryan and Kyra for making this event a big success; The Rutledge; alums, Amanda Williams and Arielle Schwaim; videographer, Jack Zander, and Fran Breen (drums) and Eric Bikales (keys) for donating their time.
The Nashville Berklee Jam is held at The Rutledge on the last Monday of every other month, with the next event to take place on Monday, June 24  featuring special guest, President of the Nashville Musician's Union and A-list bassist, Dave Pomeroy
For more info about future events, please visit the Nashville Berklee Jam website NashvilleBerkleeJam.com
If you would like to learn more about the Nashville music industry, please check out my website and book "The Nashville Musician's Survival Guide".