Our most recent Nashville Berklee Jam featured hit songwriter and country music artist, Rhett Akins as the guest speaker and performer. The Georgia native and member of the red hot songwriting team, "The Peach Pickers" is currently one of Nashville's hottest songwriters, and his talk focused on just about every aspect of that world you could imagine. Working with Rhett as his tour manager, bandleader, and lead guitarist for the last seven years has given me some great perspective on what goes on in the world of a Nashville songwriter. And on this comfortable late summer night he gave the crowd of alums and locals at the Fillin' Station a real peek behind the curtain into that otherwise secret society. Rhett preceded and followed his talk by performing some of his most recent mega-hits with two members of the alumni house band (Heston Alley on drums and me on guitar) and two other members of his touring band – session aces and former "G-men", Mike Chapman on bass and Chris Leuzinger on guitar. Rhett also invited fiddle player/singer and Berklee alum, Michel Lambert to the stage to perform some classic country and bluegrass. Today's guest blog post about this event was written by performing writer and fellow Berklee alum, Shantell Ogden '05. Here's her recap of this great talk:
Rhett Akins: Hit Writer, Small Town Swagger – by Shantell Ogden
After twenty years in the music industry in Nashville, there isn't much that Rhett Akins hasn't seen. He stopped by our recent Berklee College of Music alumni event (hosted by Eric Normand) to share some of his experience as an artist and songwriter.
The early days…
Rhett described music itself as his biggest motivator as a kid. He said he "always had his head between speakers" and joked that he listened to the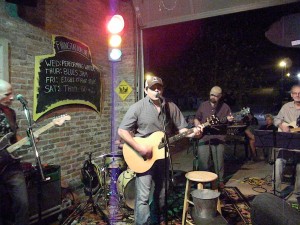 Kiss Alive II album so much that he probably knows "every sound on that record."
"Not having access to music at all times made me love it more," he said. "We didn't have iPods back then so you had to make the effort to buy and listen to it."
Rhett said his early songs were very personal. "I would write songs in deer blinds about girls back in high school. Back then, I was just writing what I knew and what was true to me."
Rhett first came to Nashville with his grandpa who knew an entertainment lawyer through a family connection. Through this connection, Rhett met John Jarrard, a hit songwriter in town. John was blind and counted the steps from his home to his Music Row office to write each day.
"I guess he liked me and thought I had potential," said Rhett. "We started writing songs together and I learned a lot from him."
Not long after, Paul Worley signed both Rhett and Terri Clark to Sony/ATV publishing as writers and artists. Rhett was with Sony from 1993 to 1996. [Note: He didn't have a publishing deal for 10 years (because he was writing songs for himself as an artist). He signed a co-publishing deal with EMI in 2006, and since EMI was purchased he now writes for Sony again.]
Rhett admits that in his early career, the biggest mistakes he made were in trusting people on a handshake, like he had in his hometown in Georgia.
"I'm really glad that my granddad and our lawyers were smart enough not to lock us into lifetime contracts," said Rhett. "Those contracts cost a lot of bands a lot of money to get out of."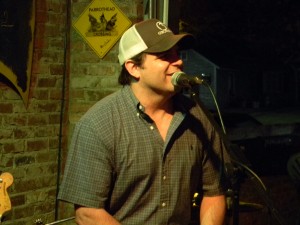 He said that sometimes speaking his mind has also been a mistake, but that's not something he regrets much. Even though some choices weren't the best for his career, they were the best for the music he was creating.
Pinch me moments…
When asked about some of his career 'pinch me moments' Rhett said there were a lot of them. Here are a few he mentioned:
• When he was 22, Rhett was sitting in Donna Hill's office when the phone rang and she said, "Hang on a minute, it's Conway." Rhett was a huge Conway Twitty fan, and could hear his idol's voice on the phone.
• He was at the AMA awards one year sitting between LL Cool J and The Smashing Pumpkins.
• Hank Williams Jr. recorded one of his songs, "Thirsty," on an album he did in 2010.
• He toured with Reba and was on the David Letterman show.
Nowadays…
Rhett said he's evolved as a writer in how he writes and where the ideas come from.
"When you write over a 100 songs a year, you start pulling ideas from anywhere and everywhere," he said. "I still want to write what's true, it just might be someone else's story."
And sometimes he even has a specific artist in mind when he's working on a song.
"When we were writing 'Honeybee' the chorus came first," he said. "We knew that the verses had to be a little crazy because a girl would just laugh if a guy actually said, 'you be my little Loretta, I'll be your Conway' and the other lines in the chorus. Ben [Hayslip] and I were thinking about Blake Shelton for it because he has the sense of humor to pull off a song like that."
"Honeybee" became a number one Billboard hit for Blake, making it just one of the songs that Rhett and the other Peach Pickers (Dallas Davidson and Ben Hayslip) have written in recent years.
So, what is a writing session like with the Peach Pickers?
"We are really laid back about it," said Rhett. "We usually get together around 11:00 every Wednesday and talk about hunting and sports for a bit. We eat lunch and then usually someone has an idea to work on. If we don't finish it that week, we get to it again the next week."
Dallas and Rhett are usually thinking about the music, while Ben is more focused on lyrics. The three have written so much together they've built up a lot of trust.
"We tell each other when we don't like something, and sometimes we think the songs should go in different directions," said Rhett.
Despite all of his success, Rhett is quick to point out that the music industry and which songs get cut is still a mystery to him.
"I don't understand why some songs suck and somehow they become a hit, while other songs you think are hits never make it," he said. "I just show up everyday because you never know when the magic is going to happen."
Rhett likes being a songwriter because writers don't have the pressure of radio that artists do and "you can write 10 bad songs and not worry about it, but an artist can't record too many bad songs in a row if they want a career."
Rhett isn't afraid to cross genres as a writer. He recently collaborated on some rap music with T-Pain and said that in his view the new era of country is really headed musically in a more rock/pop/hip-hop direction.
Accomplishments aside, you can't help but want to shoot the breeze with Rhett. He's got a laid-back small town swagger, and he isn't afraid to be who is his.
For more information on Rhett, visit his website. For more information on monthly Berklee alumni events in Nashville, visit Nashville Berklee Jam (events are free and open to the public). To view the original blog post and other music industry articles by Shantell, please visit her website at www.shantellogden.com. If you're interested in reading a in-depth interview with Rhett about songwriting, check out "The Nashville Musician's Survival Guide" by Eric Normand